¶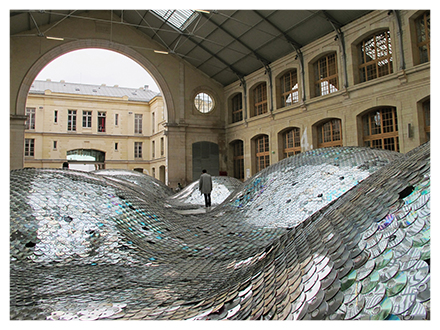 Waste Landscape
Elise Morin & Clémence Eliard
17.04-02.06.2013/ MNAC 2nd floor

"Waste Landscape" is an artificial undulating land- scape covered by an armor of more then 60 000 unsold or collected CDs, which have been sorted and hand-sewn. It is well known that CDs are condemned to gradually disappear from our daily life, and to later participate in the construction of immense open-air, floating or buried toxic waste reception centers. Made of petroleum, this reflecting slick of CDs forms a still sea of metallic dunes: the monumental scale of the art work reveals the precious aspect of a small daily object.
The project joins a global, innovative and committed approach, from its means of production until the end of its "life".Over the course of multiple exhibitions, 'Waste Landscape' will go through quite a few transformations before being entirely recycled into polycarbonate. Waste Landscape is presented in collaboration with Todays Art Festival (The Hague).
Modulab corner
Paul Popescu (RO)
19.04-20.04.2013 / MNAC 4th floor
Modulab is an open lab dedicated to the exploration of the new technologies connected to creative areas. Here research takes place in a freestyle manner and involves tech-jamming sessions where countless trail-and-error experiments, reverse-engineering and tweeks are made for a strictly explorative aim. This kind of knowledge is stored in accessible places and codes as a live knowledge embedded in the web dynamics, and as a foundation for Modulab's projects, experiments and innovation.
For some time now, Modulab has been producing a variety of tech installations and interactive surfaces, out of which some were exhibited in new media art events. In 2008, Modulab took part in Dresden CyNetArt festival with an installation. The liquid screen made of parallel tubes through which the text flowed – called "Wikileaks" and previously tested at the Rokolectiv festival - was rebuilt in an improved version for the Piksel new media art festival in Norway, in 2011. Last year, Modulab was commissioned to provide conceptual and interactive design support for the Romanian pavilion at the Venice Architecture Biennale.
Pingtime
Sergiu Doroftei, Bogdan Susma, Ion Cotenescu, Silviu Badea (RO)
19.04-20.04.2013 / MNAC 4th floor

Train to shift your focus in an increasingly augmented world with this media-challenged table tennis game. Pingtime is an investigation into how realtime generated computer responses are affecting reaction- time in fast gameplay situations, such as table tennis.



A working group with interests ranging between new- media engineering and art have teamed up to implement several such distraction methods in Pingtime, at Rokolectiv.
Atelier Brut
19.04-20.04.2013 / MNAC 4th floor

Atelier Brut uses reclaimed/ found material such as pallet wood, tree branches, Christmas trees and old furniture with minimum re-processing, leaving the wood almost in the same state as it is found. The design doesn't impose on the material but somehow allows it to find its usefulness. It celebrates natural beauty marks like knots, grains and other imperfections not found in mass-produced items and it does that with minimum of production cost.